Men charged in fatal high speed chase were under federal investigation | News
Title (Max 100 Characters)
Men charged in fatal high speed chase were under federal investigation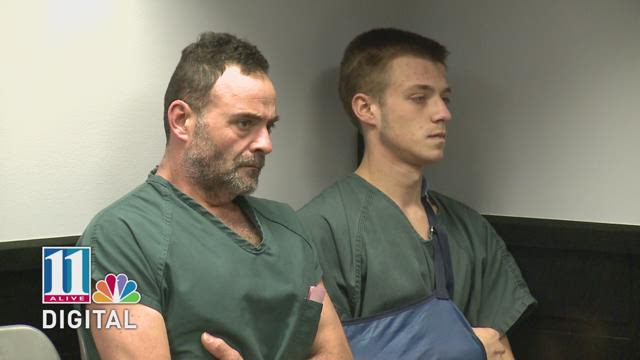 GWINNETT COUNTY, Ga. -- The father-son duo charged in a fatal high speed chase on Jan. 28 in Peachtree Corners were already under federal investigation. 
Details about the Bureau of Alcohol Tobacco and Firearms (ATF) investigation came out during a probable cause hearing for Larry Thomas and Jesse Thomas Thursday morning.
Kryzysztof Krawczynski and his wife Elzbieta Gurtler-Krawczynski were killed when the car Larry Thomas was driving slammed into their Mercedes. 
An 11Alive camera inside the courtroom captured the father and son walking into court in their green jail jumpsuits. Eighteen-year-old Jesse Thomas had a sling around his right arm. Throughout the hearing, Jesse winced, holding his arm. His father scowled, raised his eyebrows and shook his head in response to the testimony. 
COURTROOM PHOTOS |
Probable cause hearing for father-son duo
That testimony belonged to Gwinnett County accident investigator Bradley Roehl. He testified a Johns Creek officer first attempted to conduct a traffic stop because Thomas was driving without a license plate light.
Dash cam captured video of Thomas driving at speeds estimated to top 80 mph in a 55 mph area. He drove around cars, ran a red light and, eventually, crashed into the Krawczynski's car. 
Officer Roehl shared reports from the DUI investigator who charged Thomas based on observations: "Mr. Thomas's speech was slow and thick and raspy. He appeared very sleepy and had trouble staying awake when he was talking with him."
Blood taken at the hospital to obtain evidence of DUI hasn't yet come back, Roehl testified. 
"Mr. Thomas also did have a white powdery substance in his nose at the hospital," Roehl said.
Police say Mr. Thomas admitted smoking marijuana "earlier" and to injecting meth "yesterday". 
PHOTOS: 2 killed in accident during police chase of DUI suspect
Investigators are also waiting on a series of tests to identify the hoard of drugs found inside the crashed vehicle. A plastic bag with suspected crystal meth and a black duffle bag with confirmed heroin, marijuana and suspected LSD and cocaine were all found in the car. 
The stash, some of which was hidden in the floorboard, also included a .22-caliber semi-automatic loaded gun and more than $600 in cash. Police also found more ammunition, both for the .22 and other guns not found in the car. 
Despite the evidence, and what Larry Thomas allegedly told police, the two men denied the trafficking charges. 
"Friday morning after the accident, I received a phone call from an agent with ATF. He stated that an on-going investigation for both Mr. Larry Thomas and Jesse Thomas that was going on out of Green County in Greenvillle, Tenn.," Roehl testified. "They stated that it's an on-going investigation that's getting set up to go for the indictment. They were going to be charging them both with the distribution of meth, and possession of a sawed off shotgun."